Panels
What is a Panel?
A panel is a group of pre-recruited participants who have agreed to take part in market research studies, usually online surveys. Panels are created to provide easy access to representative samples of target audiences based on specific demographic data. Panels allow researchers to obtain a quality representative mix of participants. As the Internet and mobile phone usage have become mainstream, panels have become a primary source of recruits in the majority of Quantitative studies. Panels allow for quick turnaround of study results by saving time on recruiting and pre-screening.
Plan-it's Panels
Plan-it has used our 20+ years of industry-leading research and strategy expertise to create our own "dynamic" online panels. Participants are continuously added and members are restricted in the number of times they participate in a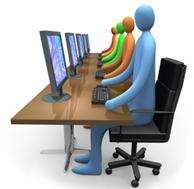 year to ensure a fresh sample. Our panels are highly qualified, and provide a cost effective way to leverage our expertise to simply and quickly conduct surveys over the course of a year on a variety of topics for both marketing and internal purposes. By using our panels, our clients save time on pulling lists, and avoid some of the internal restrictions on usage of client lists. Our ongoing online panel management ensures a quality, accurate, and reliable sample. We regularly clean out suspicious accounts/fraudulent responders, inactive, duplicate, and incomplete interviews. We work with clients in deploying surveys that will provide a continuous stream of feedback, and help them easily and quickly tap into critical audiences, including their own clients.
Contact us for more information on creating a panel for your business.